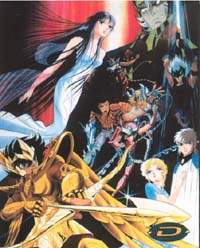 2) The Burning Battle of Gods (50 minutes, 1988)
(Saint Seiya Kamigami No Atsuki Tatakai)
In the polar ices, Hyoga tries to save a man attacked by misterious warriors: although the effort is useless, Cygnus Saint is kept in guard, by the dying victim of the attack, about the aims of the northern town of Asgard. But after this episode, Crystal svanishes misteriously...
On his hints, Saori and the other saints reach Asgard early and are received with great honours by Balder, Minister of Odin, but they are doubtful about his sincerity. Infact, the devil pope, who wants to extend his dominion to the south, abducts Saori and send against the Zodiacal Knights his strong warriors, between whom Hyoga is hidden, without memory.
A beautiful film, whose inedited adventures have ispired the famous "Asgard Chapter" of the Tv series.